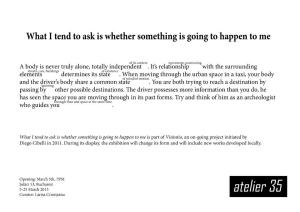 Art Show

What I tend to ask whether something is going to happen to me

Tuesday, March 5th, 2013 – 19:00 – Diego Cibelli Art Show
Where
What
'What I tend to ask is whether something is going to happen to me' is part of 'Visitatio', an on-going project initiated by
Diego Cibelli in 2011. During its display, the exhibition will change its form and will include new works developed locally.
More
A body is never truly alone, totally independent ***. It's relationship *** with the surrounding *** elements determines its state ***. When moving through the urban space in a taxi, your body and the driver's body share a common state ***. You are both trying to reach a destination by passing by ***other possible destinations. The driver possesses more information than you do, he has seen the space you are moving through in its past forms. Try and think of him as an archeologist who guides you ***.

Diego Cibelli is an eclectic artist who moves with ease from photography to video, from installation to performance, from the language to writing. Cibelli was born in Naples and completed his art studies at Weissensee Kunst och Schule in Berlin. Now he is engaged in a theoretical study on the humanistic geography.