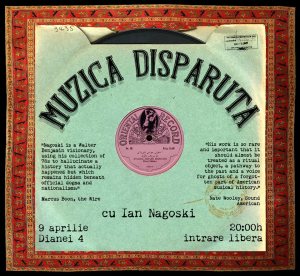 Conference

Disappearing Music w. Ian Nagoski

Wednesday, April 9th, 2014 – 20:00 – music gems audition and talks
Where
What
IAN NAGOSKI returns to Europe for another series of his hypnotic interactive lectures on disappearing music of the 20th Century, this time with an exploration entitled "100 Moons: Stories of Great Forgotten Musicians and the Boundaries of Humanness from 78rpm Records".
'Lecture' may seem too formal a term for something so immersive and transporting as one of Ian's 90-minute explorations of the disappearing music he unearths and its social/cultural roots and routes. Ian shares his love of his findings both in words and by listening to and discussing various carefully chosen shellac gems with you.
Ian Nagoski's label Canary Records (pressed and distributed by the excellent Mississippi Records) reissues early 20th century recordings in languages other than English. In the past year, he has published acclaimed collections of Hindustani classical vocal music (100 Moons and Kesarbai Kerkar 1944-54), Greek urban folk music (Rita Abatzi - 1933-37), the Austro-Hungarian Empire (Widow's Joy: Eastern European Immigrant Dances, 1925-30), and published writing in Yeti, Sound American, Ephemerotera Quarterly and The Wire.
Canary's Bandcamp site was compared favorably by Damon Krukowski in Pitchfork to Revenant Records and Jack White's Third Man label, and Nagoski's deep views on music and recording caused Krukowski to compare him to Harry Smith, just as Marcus Boon also did in the Wire. In recent years, he also published compilations on the Dust-to-Digital (Black Mirror: Reflections in Global Musics) and Tompkins Square (To What Strange Place: Music of the Ottoman-American Diaspora) labels. Nagoski's work is now highly regarded, with high profile admirers ranging from DJ/rupture to Henry Rollins, and you can also still read several interview with and articles by him from 2013 at the Sound American site.
More
"His work is so rare and important that it should almost be treated as a ritual object, a pathway to the past and a voice for ghosts of a forgotten part of American musical history."
- Nate Wooley, Sound American
"Nagoski is a Walter Benjamin visionary, using his collection of 78s to hallucinate a history that actually happened but which remains hidden beneath official dogma and nationalisms."
- Marcus Boon, the Wire
"I was entranced; I was FASCINATED. It is one of the most worthwhile purchases you will make this year. I went and got mine; I think you should, too."
- Henry Rollins, KCRW
"Ian Nagoski's To What Strange Place is a work of great beauty."
- Jace Clayton / DJ/rupture, WFMU
"…as essential to an understanding of American music as anything else."
- Amanda Petrusich, Pitchfork